FAQ
A listing of frequently asked questions.
What kind of aquarium suitable for use?
The Aqua mini & Aqua Pro have two version, one is white/blue and one is color. The white/blue one is good for planted tank, fish tank and marine tank like the LPS, and the color one is good for reef tank including the SPS & LPS.
Why the fan do not work when I turn on my light?
The fan will start work from 45C and will stop working when the temperature is lower than 40C.
When the temperature is over 65C the light will power off and the fan will keep working still the temperature is down to 60C. When the temperature is lower than 60C the light will power on auto.
The best working temperature is under 55C, the design is for the quiet space and protect the light.
How is the channels control?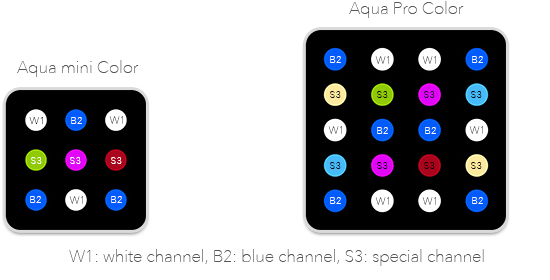 How to quickly to check my settings?
You can enter the DEMO setting, and choose YES, then you can review all the settings in 1min. For more settings you can visit the video show at http://www.micmol.com/programsettings.html.
How many lights do I need to cover my tank?
The Aqua mini is designed to cover a 17 by 17 inch area, and the Aqua Pro is to cover a 22 by 22 inch area.
Is the LED can replace by myself?
The Aqua mini and Aqua Pro's LEDs is a main board, it can not replace one by one, but you can replace the whole LEDs board easily.
Why my light flashing suddenly in the same time?
Please check your setting if you have use the function of the thunderstorms, You can set it off if you do not need this function.
How can I do if the light's display appears incorrect character?
Please power off, and start your light again, enter the factory reset and try to reset your light. If it's still appears, please contact your distributor or us directly, we will offer more the tech support to you, thanks.